Okay, so my mom and I did a 'three day' shoe challenge in which we selected two pairs of shoes for each other. We had to wear these shoes for three days-it forced us to wear shoes that were not getting the ammount of wears they deserve.
The challenge proved to be a great success and we both ended up coming up with some great ways to wear the 'challenge' shoes. When it was finished, we decided to do it again-only this time, we don't get to choose the shoes-if you're reading this, you should help us choose!
Here are my shoes-

and here are my mom's shoes-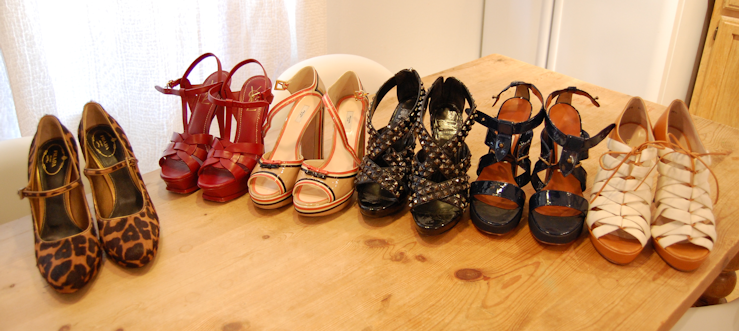 and here are some more detailed pictures-
1. A pair of rafia Alaia platforms-stripper chic!
2. A pair of Chloe shoe boots
3. A pair of yellow patent Dries van Noten sneaker wedges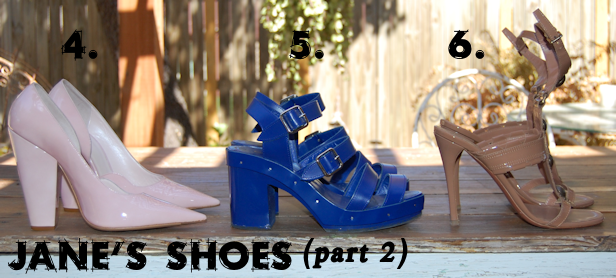 4. A pair of baby pink patent Givenchy's
5. Blue Comme des Garcons sandals with a painted wooden heel and sole
6. Taupe patent studded Alaia gladiator sandals
and now, mom's shoes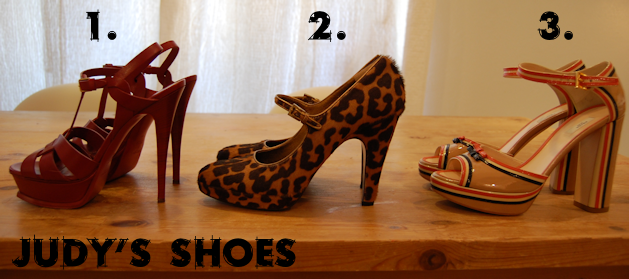 1. Red YSL Tribute heels
2. Leopard ponyhair Prada mary-janes
3. Candy stripe Prada platforms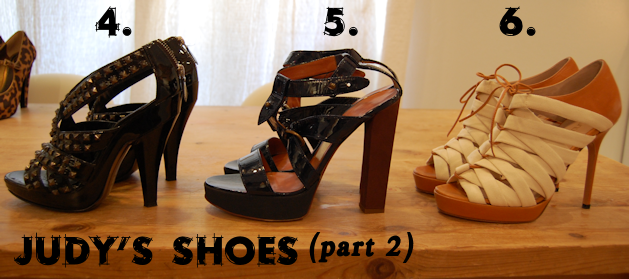 4. Studded Burberry platforms
5. Navy patent Lanvin platforms
6. Canvas and leather shoe booties by Bruno Frisoni
Okay-now it's up to you guys to vote on the shoes we have to wear-two pairs over the course of five days! If you want to vote, reply in a comment choosing one pair for me and one pair for my mom. Leave the number of the shoe of your choice (example, for Jane: #4, for Judy: #2) We will choose the first and second place shoes, respectfully.
I will post the results on Thursday-this challenge will be particularly difficult because we are going to a shoe consolidation sale on Wednesday-what if we find a fabulous pair that we are dying to wear? Oh well-I guess that's what makes it a challenge!
Comment now and leave your vote-thanks for reading as always! :)
Now I have a cooking class to attend-till next time!
Jane