So I don't have much time to post right at this moment, I'm about to go to Northpark with my mom and my sister and my little cousin-I have a lot of family in town right now. But I was just going to post this quick outfit before I head off-will update later tonight! :)
In this picture I wear: a vintage crinoline from Pandemonium vintage store in Dallas, Adidas cardigan, some Fendi pointy toed flats circa 199
Here's a picture of the shoes, they are really cute….just SUPER hard to walk in!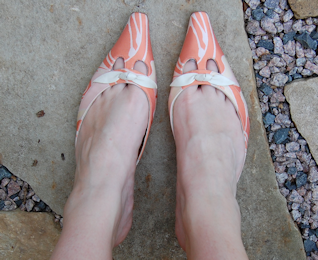 Yeah, ironic how I don't have a problem walking in six inch platforms (do you know that is how tall my Marni criss cross platforms with the lucite in the sole are?? six and a half actually) but I'm hobbling around in my mom's 3/4 inch tall slides.