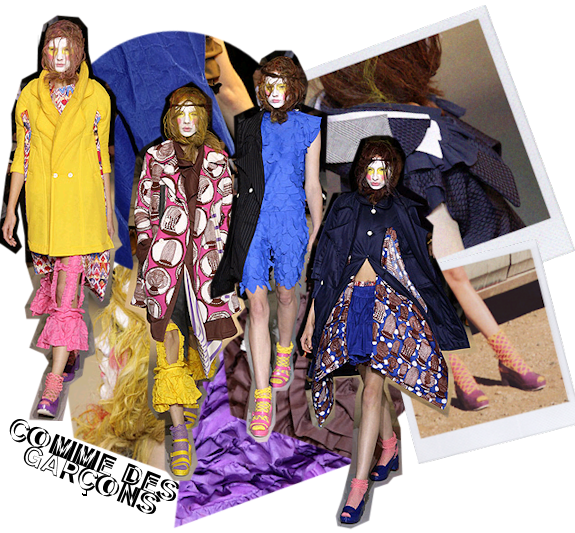 I'm still obsessing over the spring 2008 CDG collection-Never has such a cacophony of randomness looked so good. It looks like a magician abandoned his act and Rei Kawakubo masterminded every scrap of the leftovers into a genius collection. The petaled shirts and menswear tailoring combined with wacky hairstyle prints and structured yet frilly bloomers is a visual feast. Comme des Garcons shoes are often overshadowed by the spectacular clothes…the shoes this season did not escape my eyes however. The strappy, clunky peeptoes and sandals in a variety of colors that belong in a Crayola box could be too juvenile and cutesy, but the sheer solidity and chunkiness of them keeps the look down to earth. Not to mention the fishnet socks are absolutely the perfect compliment to them. They were on my top 10 list of best shoes for the season-but where does a girl get her hands on these shoes? Comme des Garcons shoes are not easy to come by. I ordered mine from Barney's on Madison and had them shipped here. I hate to play favorites but these could certainly be on the best pairs of shoes in my closet…
My dinosaurs make a guest appearance again! Check out the nails along the side of the shoe…what a great detail. The wood of the heel is quite shiny-and yes, in broad daylight the shoes really do look this blue. I can't resist the clomping noise they make either…makes me wanna dance ;POf course doing a post on them makes me want to wear them! I like to pair these shoes with Levi's cut-offs too..particularly a pair that is cut at a slightly awkward length to get a geeky/gawky look going on.
Lime green chiffon dress from Urban Outfitters, piano shawl from Emeralds to Coconuts, and a fat stack of bangles as well.I wore them last week too, with cut-offs shorts and a cut-off mexican dress!
Phew….I've been wanting to share these shoes on the blog for a long time!
If I am slightly absent this weekeend it is because I am studying for finals…I'll be busy with that most of next week. I'm sad to say there will be a Sea of Shoes hiatus in the near future…on the 19th I am going to Bilbao for the exchange program my school is involved in. I'm very excited but I won't be able to bring my laptop for the TWO WEEKS that I am there. After that I'll be posting like a maniac trying to catch up ;P Just giving a heads-up.jane