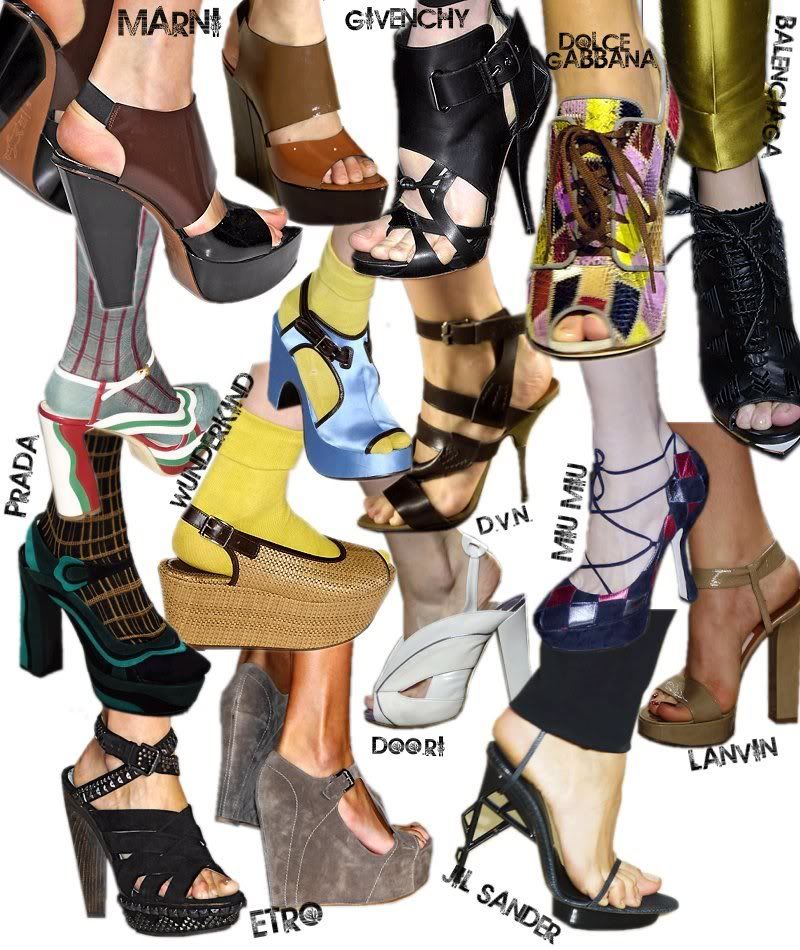 Here are our picks of the fall line up-
MARNI-a usual standard favorite, Consuelo Castiglione rarely dissapoints. It's a classic Marni sillouhette taken in a new direction. These shoes came in countless variations of mixed tones and heel styles-we love them all. Typically, full frontal coverage on the foot isn't our thing, but Consuelo makes it work. It's sexy, not gladiator-ish.
GIVENCHY- we have continued interest in Richard Tisci's reinnovation of Givenchy. The footwear always has an edgy sexiness. We like the S & M gladiator feel on this particular shoe. It's almost kind of a shoe boot.
PRADA-This season, Miuccia Prada took Prada in an unexpected direction. In analyzing this collection, the scene in Alice and Wonderland with the singing flowers immiediately sprung to mind. They bring back the decadence of the Biba era, but there is something kind of ethereal about them. The leafy embellishements on the shoes are very art-noveau. One pair of these Pradas in your closet could steer your style into a different direction completely. The contrast of the pattern tights really compliments the funky color cominations of the shoes.
DOLCE & GABBANA– Dolce & Gabbana has always been known for over-the-top sex bomb shoes. We were glad to see them add some quirkiness to their footwear while staying true to their own look. We especially loved the shoe we feature-the snakeskin patchwork bootie. This shoe has great possibilities, with jeans, a mini, or a knee length pencil skirt.
DRIES VAN NOTEN-This shoe is not reminiscent of any Dries shoe in the past few seasons, or any designer lately for that matter. At the same time, the combination of studiness, sexiness, and raw details is totally Dries. After owning many pairs of Dries ourselves, we have become true devotees to his range of footwear. They are always empowering shoes. You aren't going to see any male-libido-pleasing-hoochie-starlets (we're talking to you, Jessica Simpson) slipping on a pair of DVN's. These sandals are no exception, they have the Dries mystique.
WUNDERKIND-The flurry of prints, textures, and cross-culture references could have easily detracted from the footwear this season at Wunderkind. But these shoes were too whimsical to miss. Sometimes whimsy can be corny…think Marc Jacobs. But these shoes offer up the right balance of