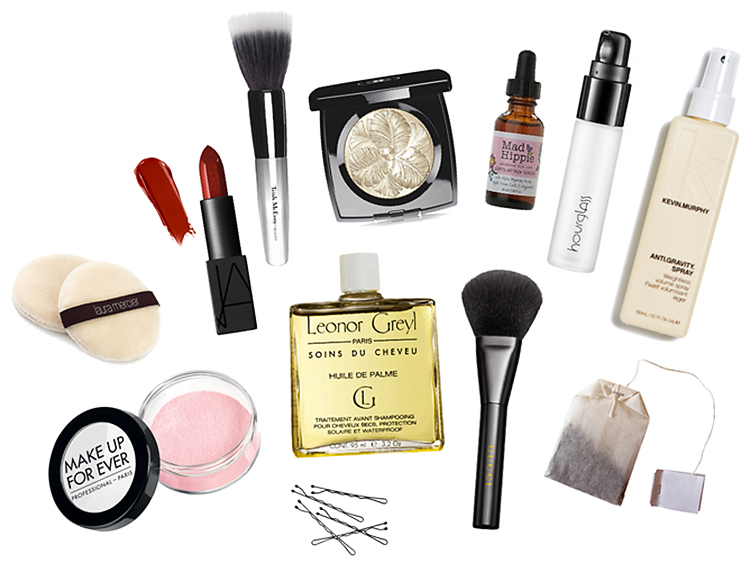 I like to switch up my skincare, hair, and makeup routine every once in a while and over the past few months spent experimenting I have become hooked on some new products. Some of these have been serious game changers for me, so I thought I'd share some of my beauty favorites as of late!
Starting left to right, top to bottom:
1. NARS Audacious lipstick in Olivia is the most gorgeous 70s orangey-brown-red lip for this season. As a redhead, I like a very warm red lip. Pretty sure a tube of this will be in my purse for as long it is being made.
2. Chanel Camelia de Plumes Highlighting Powder is a holy grail product for me and it makes me cry a little that it is a limited edition item. This beautiful powder imparts a soft glow that will make your whole face look as though its bathed in moonlight. When I saw it at the Chanel counter I couldn't resist trying it because of the pretty packaging, but when I saw the difference in my face after trying it I had to buy it. Putting it on everyday has become the most luxurious part of my makeup routine. I also use it as eyeshadow and highlighter for the inner corner of my eyes.
3. Mad Hippie Exfoliating Serum is exactly the step my skincare routine was missing. I tried this when I was staying at my mom's house and I really liked it. It helped clear up some spots I was having right away. I got a bottle of my own at Whole Foods. This is a pretty strongly acidic serum so I'm not sure I'd recommend it for extremely sensitive skin. It is fantastic for lightening sun spots, which I am so prone to! I use it every other night and spend a few minutes massaging it into my face before my night cream.
4. Hourglass's Mineral Veil Primer has become a product that I can't do without. Most primers are too sticky or slippery for my taste, but this hits all marks for me. I love how it brings a nice translucency to my complexion. It also makes your makeup waterproof, and it stays on all day long. As in, be prepared to spend a little extra time washing your face at night.
5. Kevin Murphy's Antigravity Spray is a great product for reviving second or third (or um, fourth) day hair. I use it like a restyling spray, I scrunch it in for volume and to soak up oil. It is incredibly lightweight and brushable. My friend and hairdresser Jessica turned me on to this. She has perfect piecey bedhead hair everytime I see her, so I asked what dry shampoo she used. Turns out she doesn't use dry shampoo, just this! I've been using it for a week and I'm super obsessed with it.
6. Make Up For Ever's Super Matte Powder in Pale Pink is a godsend for those with deathly pale complexions like my own. A makeup artist turned me on to this product. It does the most beautiful job of brightening and evening my ruddy skintone without washing me out. Instead of a brush I use a velour puff like Laura Mercier's to apply this only to the T-zone. It gives such a creamy "English Rose" finish to the skin.
7. Leonor Greyl's Huile de Palme is something I've recommended before but it bears repeating. If you have fine hair that snags easily, this will do wonders for your ends. I know it sounds a bit crazy but I swear a few months of using this has brought a lot of natural wave back to my hair. This is used as a pre-shampoo treatment, so I massage this oil into my ends about an hour before I wash my hair. The difference it has made in my hair makes the price completely worth it.
and lastly, though not technically a beauty product…puh-ehr tea! We all know that fermented foods do amazing things for your skin and body, which is why puh-ehr tea is getting so much attention lately. I have come to really enjoy it's smoky flavor. I've traded in my usual cup of coffee for a healthy cup of cardamom puh-ehr in the mornings. I don't even have to compromise on  my caffeine, a cup of puh-ehr will give you a surprisingly good  buzz.
These are the things that have worked for me and made a difference in my beauty routine lately. I had fun sharing them with you, I hope this list had a few new tips to offer!