I got this jacket at a random boutique in New York…it was very cheap and its not very warm. I still love it though, even though my friends think it's hooker core. ;-)
Worn with a F21 lace top and a Miu Miu skirt.
This is my mom's Dolce & Gabbana jacket-she got it way marked down at a Neimans outlet…I am so jealous! I loved this collection. The shoulders!
This Comme des Garcons skirt was a very early surprise birthday present from my mom last year-I love it so much! When I first got it, I wore it all the time to the most ridiculous places and damaged it a little. I'm more careful now…I want to save it forever!
Worn with a Zara crop top sweatshirt.
Last year, I wore it to school on one of our free dress days. It was one of my favorite outfits!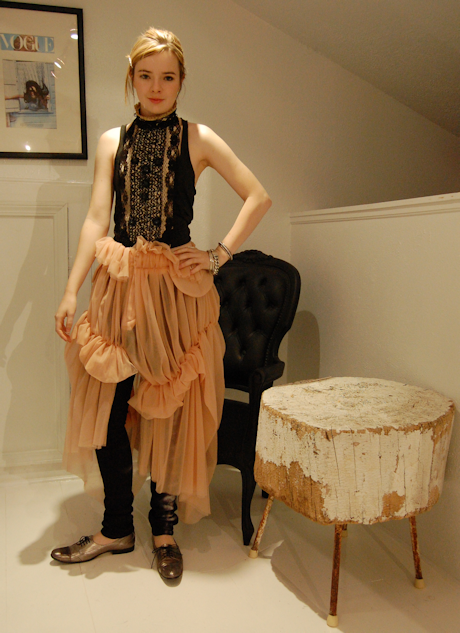 Speaking of my favorite things..while I was taking pictures my friend Ronald came over!
I was so excited to see him, I haven't seen him in months. He's been on touring with Neon Indian all over Europe. So famous now. Ronnie was wearing all Topman..and a special cat scarf his sisters got him for Christmas. Ron loves cats.