The three skirts featured in this post were all bought in one weekend when I was vintage shopping in Tulsa, Oklahoma. (some of the best vintage shopping in the US, by the way) I don't know if I what posessed me to buy three skirts that all look like they could have belonged to June Cleaver. Maybe it was because femenine looks have always suited me best…much to my frustration I've never been able to fully pull off a boyish, androgynous look. I think it's my swedish heritage, which has given me a baby face and hips a touch too generous to look good in pin-thin trousers! But I digress…
I think I like this length and volume of skirt at this moment because it's not in line with the mega-trend of thigh grazing, skin tight pencil skirts….sorry to quote CSS but I'm 'tired of being sexy'! A waist-cinching vintage skirt that hits about mid-calf seems fresh to me in a sea of legs, legs, legs. I think you just have to update the look to make it work….I started from the bottom and worked my way up. Kicky shoes are definitely must…otherwise you risk the iffy 'vintage' girl look….you guys know what I'm talking about right?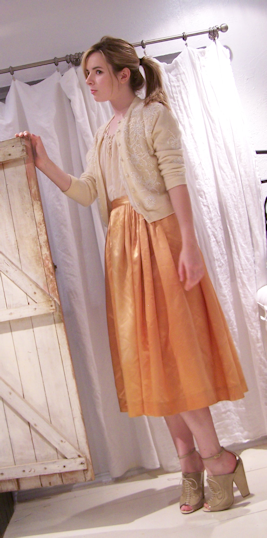 Beyond the sky-high Givenchy's I didn't try to make this look edgy-the peachy satin skirt is hard to accessorize and I think I was best off doing the entire 'Barbie Dream Date' look. A cotton camisole and beaded 50's cardigan in soft creamy colors compliment the salmon-pink of the skirt. The least experimental of the three looks I tried with these skirts.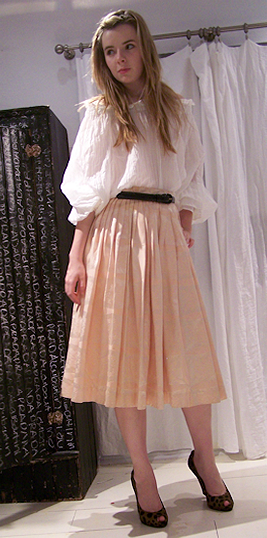 This brocade detail and candy pink of this skirt is so delicious!! The fabric is very stiff and thick so I chose a billowy sheer off-the shoulder blouse…I raided my mom's box of dead stock from her old clothing line for it! I chose darker shoes to anchor all the soft colors, and the black patent belt to pick up the black spots of my leopard ponyhair Miu Miu's.
For my third act, I pair an ubertough Junya Watanabe jacket with a painterly swing skirt. (as well as a vintage belt and Marni criss cross heels) Something about the peaks of the shoulders of this jacket and the delicate brush strokes and warm colors of the skirt evoked the image of Japan in fall!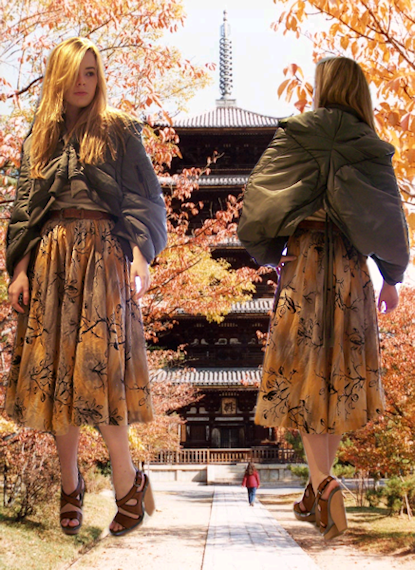 I had fun experimenting with these looks….these skirts are actually perfect for the 'in-between' weather we're experiencing here in Texas! I had a lot of other posts planned for this weekend but my camera has tragically broken due to a freak tripod accident…so instead of posting what I've been working on last night I was weeping over my new camera. Hopefully it'll be out of the shop in two weeks, until then it's back to my crappy Kodak-until then I apologize for the crappy image quality on this blog. More to come later-:) Life is complicated right now-I've got finals coming up and homework is pouring in-I'll try to keep up though!ttyl, jane